Lupit is a NEW brand to the US and is steadily gaining traction and popularity, sales increase on this one every day. Lil Mynx is a steady brand and has been around selling poles a very long time, still a good seller as well. A commonly asked question is, "Can I teach myself pole dancing?"  Yes, even if you have no experience and you can do this in the privacy of your own home as well. All dance poles for sale on our website come with beginner pole dancing lessons online, regardless of the brand you buy. With help from these free beginner pole dancing lessons you can teach yourself pole dancing!
So just a quick re-cap for you… Below is a list of the best dance pole for at home: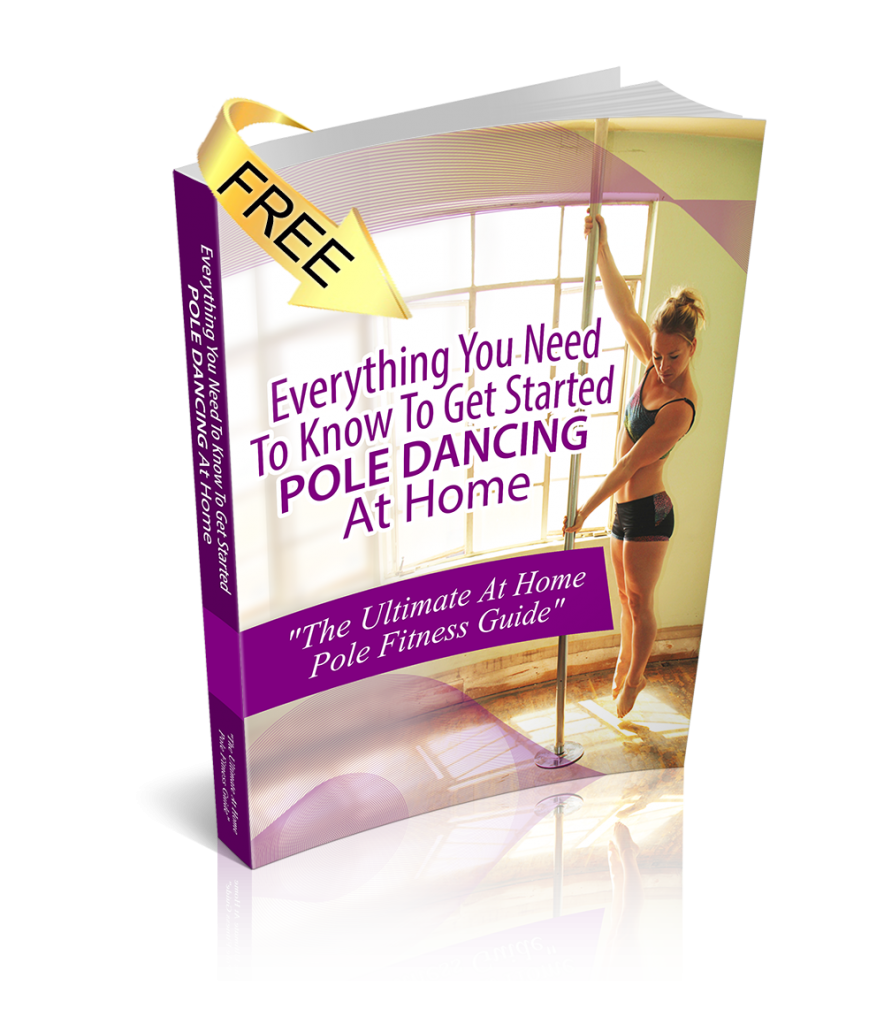 If you are BRAND NEW to pole dancing at home and you know nothing about grips aids, home dance poles, crash mats, etc, it is highly recommended that you get the
FREE ebook called "Everything You Need To Know To Get Started Pole Dancing At Home"
It will walk you through things in a more holistic manner regarding how to get started learning how to pole dance at home and
covers a lot more than just buying your first dance pole like the best fat loss plans for dancers, how to asses your dance pole space, how to choose the right pole dance class or online lessons, safety tips for pole fitness at home,  and much more! 
The information on this page below is strictly limited to helping you decide which dance pole to best for you to buy given your individual situation : )
Best Home Dance Pole For Your Budget
You may be wondering, "How much does a pole dance pole cost?". Dance poles are sold anywhere from $50 to over $1000. But, just like any purchase you make, you should always fo some research to find out what type of quality dance pole you are investing in. Most people begin to choose a pole based on their budget.  If you can afford a good quality name brand pole, it is recommended that you do so.  Bear in mind that there are brand name dance poles that ARE NOT safe. (The section below titles brand name poles versus no brand dance poles will go into detail on this topic)  If you are on a tight budget, the removable and spinning Pro Quality Dance Pole is a high quality safe alternative to name brand poles. You should never compromise your health or safety when buying a pole.  There are many other poles on the market (both brand and no brand) that ARE NOT SAFE!  Any pole made with cheap plastic parts should be avoided, especially if you plan to use your pole for exercise or inverting.  It's just not safe to swing on something made with plastic parts and THIN METAL. You get what you pay for in poles.  Thicker metal, better bearings, and quality chrome cost money and require more time to construct. That being said, you don't need to buy a top name brand pole if you know what you are looking for in a good, safe off brand pole. *It is recommended that you buy the best quality pole you budget will allow for the sake of your safety and health.  This is an investment in you and your quality of life, it's not worth taking the cheap route.* The PFD Pro Quality Pole Dancing Pole Kit with Free lessons is our "safe alternative" if you can't afford a name brand pole like an X Pole, Lupit, or Lil Mynx.
The Best Dance Poles For Home Use
The best dance pole to buy for home use HIGHLY depends on how you plan to use your dance pole.   In a general sense, 80-90% of the home buyers will choose a removable and / or portable dance pole.   The removable dance poles are KEY because many people have children, pastors, judging family members, or other reasons like creating more space for visitors that would make removing the pole when it's not in use ideal. Removable dance pole are easy to come by and most frequently purchased, but some are more "portable" than others.   If portability is very important to you in addition to the removable feature, then is best if you choose a dance pole that has a dance pole carrying case.   This make taking your pole to a party or friends house a breeze. Dance pole used for home that are removable are most generally easy to store no matter what brand (or non brand) pole you buy.   Removable dance poles break down into smaller pieces and can easily be store in your closet in minutes.
Assessing Your Home Dance Pole Space, Floor & Ceiling Type.
We get asked this question a lot, " Can you put a pole dancing pole on carpet?" Yes, you can install a pole dancing pole on carpet. Depending on if you have very short fibered carpet or long shag carpet depends on if it might leave an indention in the carpet after sitting a while. One of the most common concerns when installing a dance pole at home is if it will damage the floor or ceiling (especially if you have popcorn ceiling) and if you have enough space in the area where you want to install the pole.  If you buy a good quality pole and you install it correctly according manufacturer's instructions, the pole rarely causes any damage.  However, there are certain exception to that rule and you want to be sure your floor, ceiling, and dance space are safe before you purchase your pole and begin your home pole dancing workout. As always, consult a professional carpenter to assess your ceiling and floor for safe installation of a home dance pole. Here are some great reference to help you: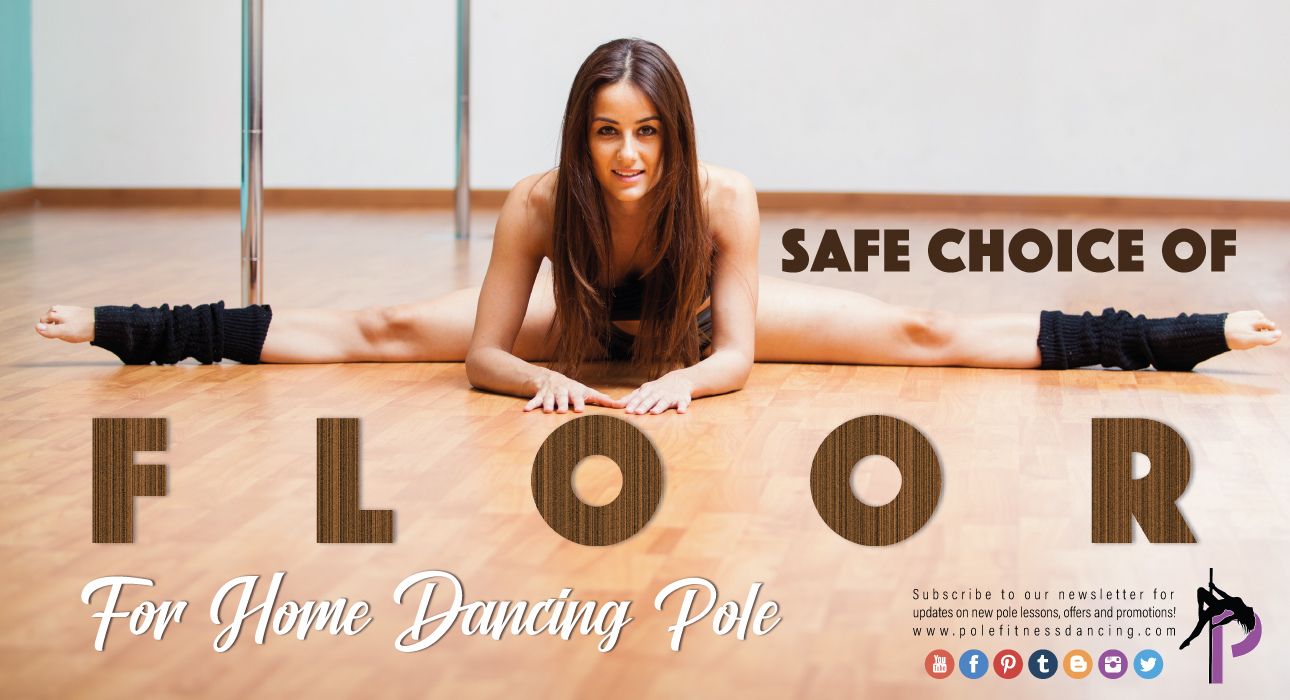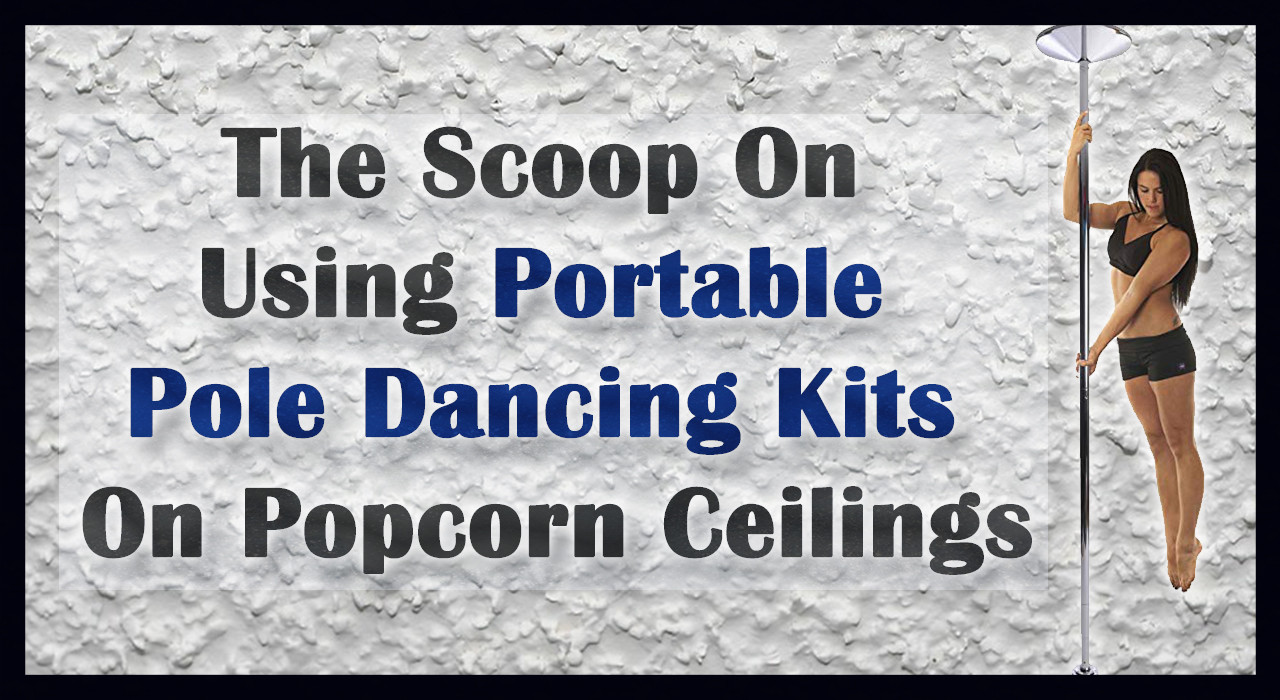 Know Your Ceiling Height & Angle
This is a big one because not all dance poles will adjust to all ceiling heights.  In a general sense, most dance pole kits will fit  general ceiling height of 7′ 4″ ft to 9 ft high.  There are dance poles for ceilings shorter than 7′ 4" and taller than 9′ but your options become more limited once your ceiling height go out that general range. If your ceiling is taller than 9ft, you will need a dance pole kit along with extra extensions (purchased separately) to get a good fit for your individual ceiling.   All the extensions and dance poles featured in our shop have a size chart so you will know exactly what size extension to buy with your dance pole of choice.  Please note* dance pole extensions are brand specific and cannot be interchanged with other brands.
All removable dance poles have a max height so it's important to know that in advance before you purchase. If you ever plan to have or do have a taller ceiling, we recommend buying a pole with a lot of extension options.  X-Pole brand has the most extension options available on the market today and can be customized to fit very tall ceilings up to 14′ 3″.   The dance pole is still fully removable at that height.
The PFD Pro Quality Dance Pole, The Lupit Classic Dance Pole, and The Lil Mynx Dance Pole all have a max height of about 10′ to 10.5′ after you purchase the one additional extension available.  The poles that max out at 10ft do work for most general users.
TALL CEILINGS: If you have really tall ceilings (about 12-14′ 3″) then your pole will start to get a LOT more flexible after adding so many extensions.  Too much flex in a pole isn't desirable for everyone and ends up being scary to dance on for most people if you're not used to it. *Please note that I said "scary" not "un-safe" – they mean too different things : ).  To get rid of too much flex in taller poles we recommend you try Build A Poles >> We do not sell poles taller than 14′ 3″ at this time. If your ceiling is taller than 14'3″, please consider a dance pole with a platform or stage base to place in the room.  These do not attach to the ceiling and are stabilized by the stage base only.  A HUGE perk is that they are still portable dance poles even though they have a stage meaning you can take them to the beach, a party at your friends house, or wherever your imagination can take you : )
SHORT CEILINGS: If you have ceilings shorter than 7′ 4″ you very best option is the Lil Mynx dance poles because you can have them custom cut to fit your shorter ceiling FOR FREE!  No other brand does this!  The only other option you have is buy an X Pole,then buy an extra 750mm extension and replace the top main pole that comes in the standard kit to shorten the pole – but this option is a LOT more expensive than getting the Lil Mynx.  The only advantage to choosing X Pole over Lil Mynx when you have shorter ceilings is that if you change your mind and move your pole to a different area or home then the X Pole will adapt to those changes not matter what choose as long as you don't go over 14′ 3″ high.  The custom cut Lil Mynx will only have about 10 inches of play room to go higher if you change your mind on the ceiling height. If you own your home, don't plan to move any where any time soon, and your ceiling is below 9 ft but not shorter than 7′ 4″ then you have more options. The X Pole,  PFD Pro Quality Dance Pole, Lupit, and the Lil Mynx are good sturdy poles for home use.  At this point you can fall back on your budget and type of use to help you decide which pole is best for you.
SEMI-PERMANENT MOUNTS: Once you extend your pole above 11ft, it is recommended that you stabilize is with a ceiling mount (which screws into the ceiling)  Ceiling mounts are required on poles taller than 12ft, the dome is not supportive enough when the pole is extended that high. Vaulted Ceiling mounts are available for both brand and no brand poles.  These mounts will accommodate most roof angles, it does need to be screwed into a ceiling joist.
Still a little confused?  Here is a great article that goes into great detail about choosing the right dance pole for your ceiling height =>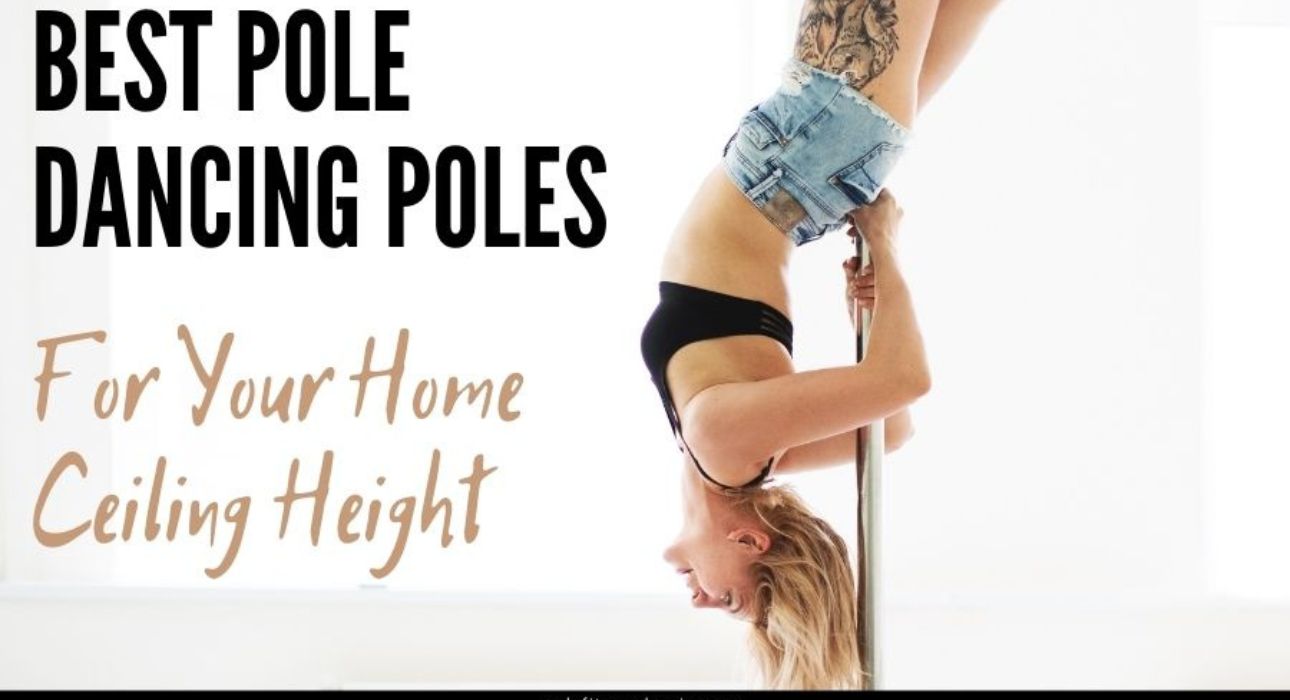 Do You Want Spinning Dance Pole, Static, or Both?
The most common seller is a pole that is both spinning and static (stationary).  If you are a beginner, it is worth the investment to get a pole that does both.  You will find the spinning mode easier to learn on in some ways AND it's a lot of fun! The main reason you would require a spinning dance pole is to hold a pole move while the pole rotates, giving the viewer a pleasurable view and you (the user) a fun ride!  Many women find it fun to simply hold on to the pole and swing, it's a playful sensation much like a kid on a marry-go-round.  Your husband and kids will swing on it too!  It brings out the kid in everyone. Static poles are cheaper and are also nice to pole dance on, but you do miss out on the playful movement a spinning pole provides and your rotating action during pole spins and moves is DRASTICALLY limited.  If you are a beginner and don't plan to swing on the pole much (more or less just dance around it with an occasional climb or swing) then a static pole will suite you just fine. Watching dance pole reviews is a great way to see the difference and make a choice that is right for you. If you aren't sure if a static dance pole or a spinning dance pole that is both static and spinning is best for you, go here to read a great article about learning to pole dance in spinning or static mode.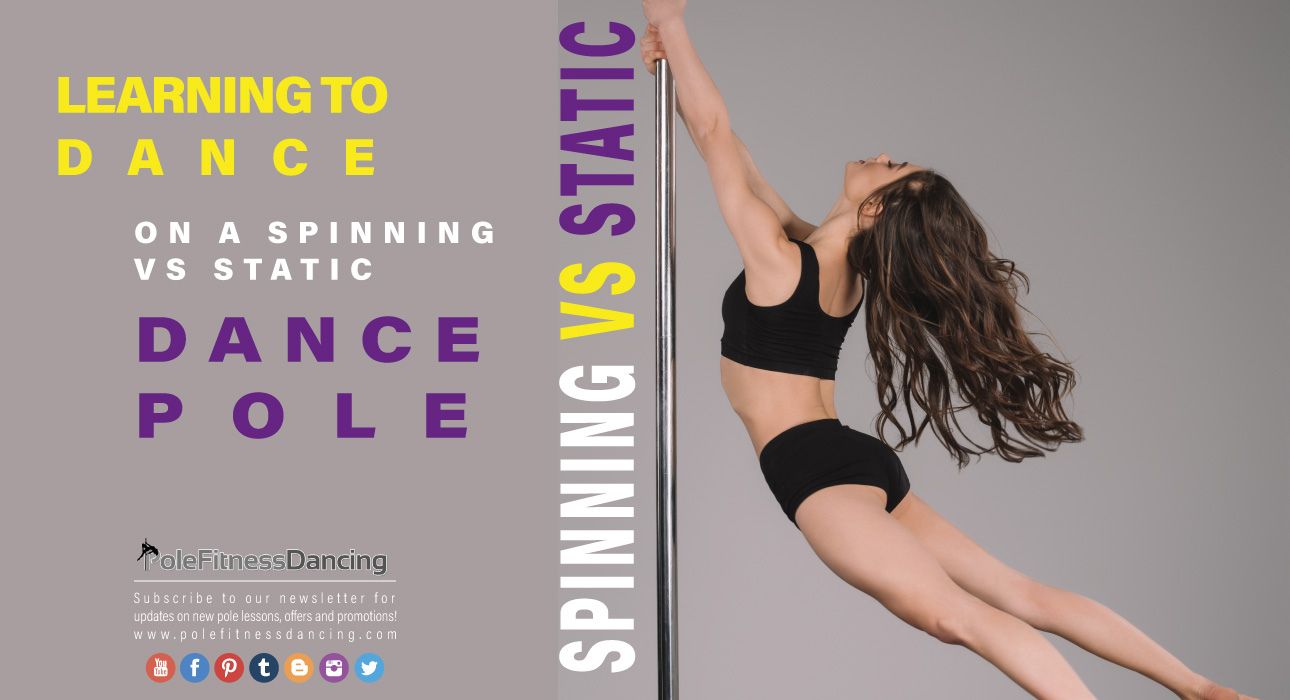 Decide On The Best Dance Pole Finish Type
The chrome finish is the most common and widely used. If you are thinking you want the PFD Pro Quality Pole Dancing Pole you can choose from black powder coated, titanium rainbow illusion, or chrome. There are several different finishes available for the X Pert X Pole (which is a spinning and static pole).  You can choose a different finish for the pleasure of the color OR for functionality.  The X Pole XPert dance pole review is found here => The most common dance pole finish types available are:
Lil Mynx poles has different finish options as well including:
Lupit Dance Poles also have two different finishes available in Chrome (not available in the US yet) and Stainless Steel.  The Lupit stainless steel dance pole review is found here =>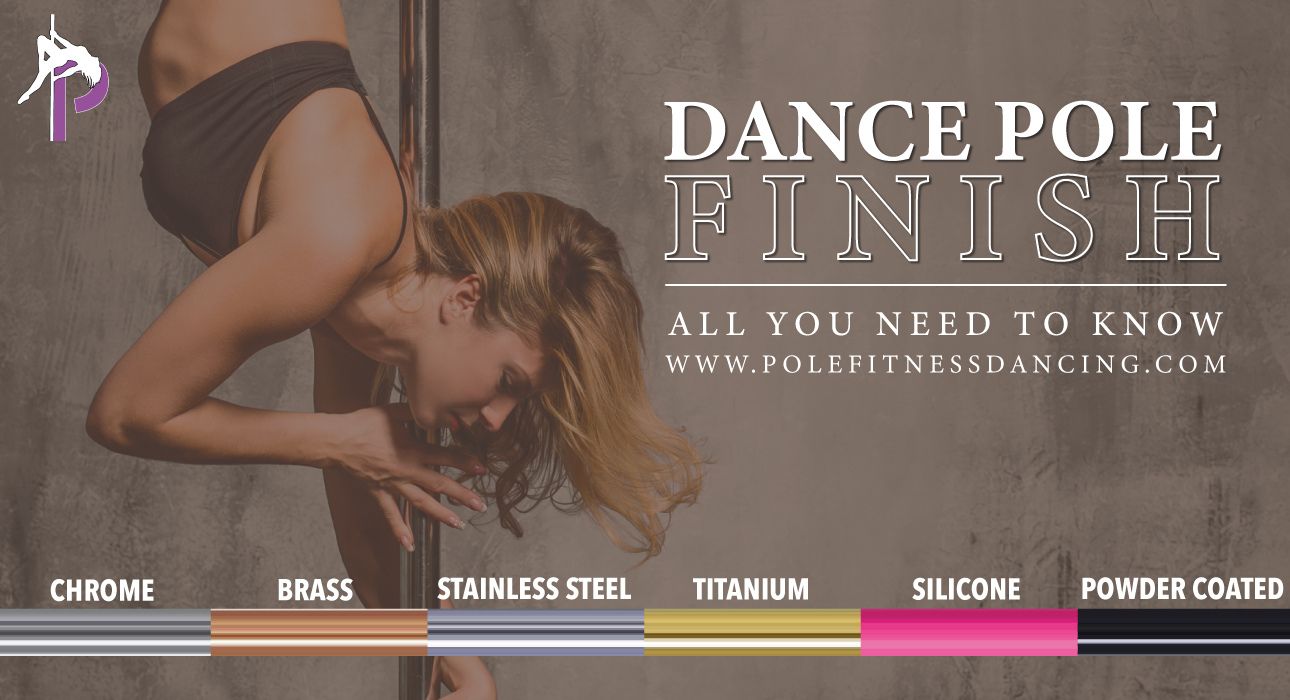 Decide on Best Dance Pole Size (Diameter)
The most common is 45mm size dance pole.  If you have never danced before and have no clue, I recommend the 45mm.   All major brand name poles and non brand poles have the 45mm size available. The extra options for size are available for various dance pole brands.  Those extra sizes are:
The PFD Pro Quality Affordable only comes in 45mm. If you are a Lil Mynx fan, their poles come in both 45mm and 50mm. The X-Pole brand has the widest range of dance pole sizes including: 40mm, 45mm, 48mm, 50mm, and 53mm. Here is a great article that goes into depth about the different pole sizes, diameters, and lengths >>>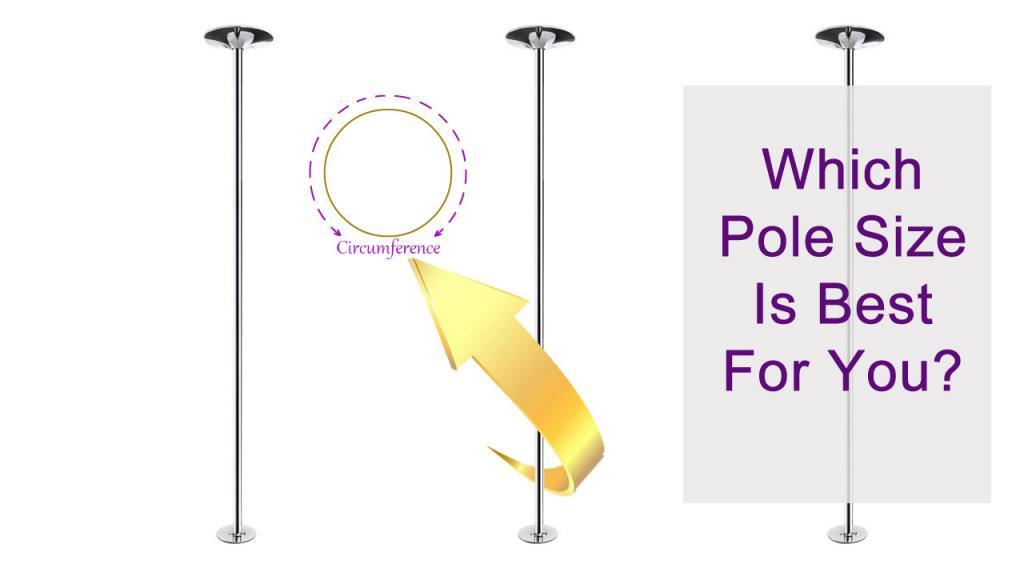 Best Dance Pole Brands Versus No Brand or "Knock Off" Dance Poles
This is generally where people get scarred and confused. It's normal, keep reading : ) Safety is a big concern for everybody when you are buying your first dance pole.   Truthfully, if there are installation errors made, it doesn't matter if you bought the best brand name pole, it can still come down from the ceiling and hurt you.   It's important to study your dance poles by watching good dance pole reviews and follow the manufacturer instructions perfectly.   If you do this, you should have no problems at all, the majority of people don't safety problems. Name brand poles typically have a good reputation for quality and safety however, not everyone can afford a brand name pole.   There are cheaper Brand Name poles that are not safe as well. To start, the main US based name brand poles that are the best because they have dedicated their manufacturing practice and business to pole dancing are Lupit, Lil Mynx, PFD, and X pole brands. All are great companies with individual differences.  All demonstrate professional qualities and if you can afford one of these brands then I recommend them all.  The X Pole brand has better extension options in case you ever want to change your ceiling height as well as an easier install.  Lil Mynx brand is better for permanently installed dance poles that screw into the ceiling and floor as well as poles that are cut to fit your ceiling height.  Lupit brand is the easiest of all the portable dance poles to install. X pole is a leader in producing dance poles with the widest range of options in finish types and sizes, but are often more expensive than other brands.  Their pole extensions to make the pole extend to different heights is un-matched.    The Xpert Model X pole is unmatched for adapting to various ceiling heights.  No other brand compares.
There are name brand dance pole companies on the market that sell dance poles that are dangerous.
Some Brand Name poles like the Carmen Electra Stripper Pole, the Spencers Dance Pole, and the Pro Fit Pole are not safe for learning to pole dance on in my opinion.  Click on the links for each of those brands for a detailed explanations and a video dance pole review as to why I feel that way.
Most of the screw together type dance poles are really "knock off" poles of the original X Pole which was a screw together type pole.   These poles are randomly branded by various companies (companies not necessarily dedicated to the safety and wellness of a pole fitness dancer) like MegaBrand Dance Pole, The AW Dance Pole, The XPerience Dance Pole, and other random brand names found on Amazon and Ebay.   And while most of these types of dance pole look alike, they may not have been built with the same quality! When I first opened my pole fitness studio, I didn't have enough money to buy quality name brand poles.  So I bought a wide variety of screw together type dance poles off Ebay and Amazon trying to find ones safe and suitable for my students and made a ton of mistakes! Here is what I found:
You must get a pole with quality chrome electroplating. Some cheaply coat the pole in chrome that then it soon chips off after you buy it.  I paid $149.99 for a pole on EBay and when the chrome chipped off it cut my fingers as I slid down the pole.
You must look for the thickness of the metal in which to pole is created. If you buy a pole that is made of too thin of metal, it can bend.  Yes, you heard that right.  I bent one pole inverting on it after one short month.  Once it was bent, it wouldn't spin very well.  Here is a video of my bent pole adventure >>
You must watch for accurate install instructions. One pole I bought came with wrong instruction on where to place the locking nut (the piece that makes the pole NOT come loose from the ceiling).  I put it where the instructions said and the pole unscrewed itself from the roof while I was on it!  I later found out that by putting the nut in the right spot solved the problem.
You must look for quality bearings. This is a tough one because we girls are not machinists (usually).  I didn't know anything about bearings and I bet you don't either!   All you can do is ask if there is a warranty on the bearings.  Some of the EBay and Amazon poles I bought had the bearings go bad after a few short months.  When that happens, the pole locks up and it won't spin anymore.  This is where some of the product reviews are faulty because it might work good at first, but quite spinning later on down the road, long after that person left a good review about the pole.   I was able to fix the bearing problem by taking it to a local machine shop, but I shouldn't have had to do that with such a new pole.
Good Quality, soft rubber is essential for safety. I bought a pole off Amazon that had rubber so hard you could hear a hard tapping noise when you tap on it.   If the rubber on the dome and base is not soft, the pole can sip sideways, causing the pole to come loose from the ceiling under the centrifugal force while dancing on the pole.
D-Poles. D-Poles are not technically a "brand" like some people think, it's the name of the generic instruction manual they place inside almost ALL no brand poles because they are install identically, this includes the MegaBrand dance pole.
Unfortunately, most of the off brand poles come from China and there are no set industrial standards for a quality pole and quality checks at the manufacturer are not always done correctly.  (Don't let China scare you, X pole is manufactured in China too.) Watching Dance Pole Reviews will help you tune into these features and pick the best dance pole to buy for your situation. Here is a video where I show you what to look for in a good No Brand dance pole:
Still Confused? Here is a great article that goes into detail about the best brand name poles to buy versus no-brand dance pole => Looking for these above suggestions can be time consuming and taxing.  If you want to save yourself the trouble and buy an affordable and study brand pole for a great price, here on this website, we don't sell junk. I have already gone through the pain of finding a good quality off brand pole for you.  I currently use that pole in my pole fitness studio and the girls absolutely love them!
Grip Aids, Grip Gear, and Pole Dance Crash Mats
You will want to consider getting a good quality crash mat when you begin learning to invert (go upside down).  Most beginners don't learn this right away so you may or may not need one when purchasing your first dance pole for home.  Here is an in depth articles about how to choose the best pole dance crash mat for your home or studio: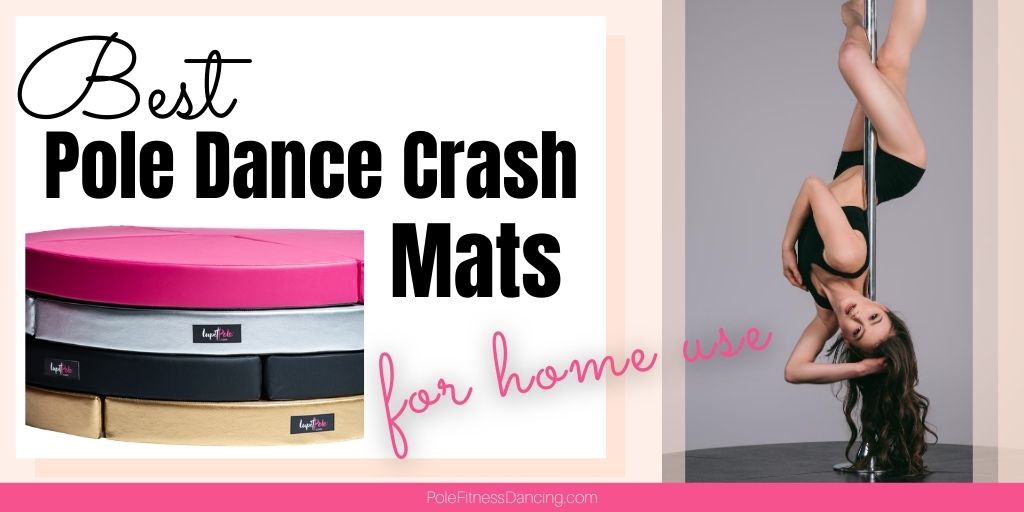 Grips Aids like Dry Hands, Tite Grip, The Lupit Pad (and pole cleaner in one), and PFD Grip Tac are good to order right away because beginner pole dancers usually don't  have the strength in their grip to execute some spins.  A powder or cream to enhance the grip on the pole will help you stick to the pole until your grip gets stronger with practice. Grip gloves are something beinners ask about because developing the muscular strength in your hands to hold your own body weight on the pole takes time to develop.  And we are all in a hurry to play on the pole as much as we can aren't we!  So grip gloves will help you dance longer, especially in the beginning.  Remember, they are never a substitute for developing the strength to grip with your own bare hands and you should dance without them as much as you can.  You can detailed information on how to clean the dance pole here =>
Best Home Dance Poles For Heavy Body Weights and Type of Use
It's very common for someone to be concerned that the pole will be safe to use if they are a heavier body weight : )  Lucky you, because so many people have asked, we created an article that dives deep into this issue so you can make a dance pole purchase that feels safe and easy.  You can find that article titled by clicking the image below to read more details to purchase a dance pole safe enough for heavier body weights: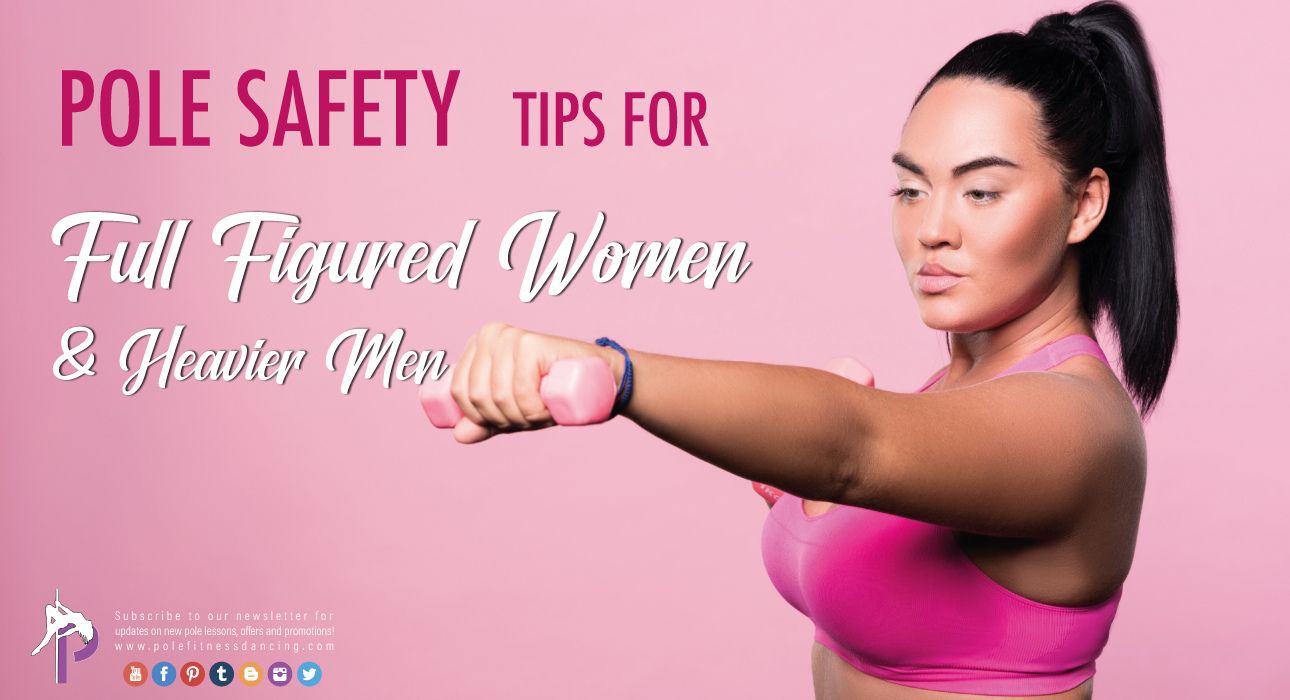 Many women of 200+ pounds pole dance safely for fitness, it's ok to be concerned : )  Here is a recent testimonial from a heavier gal who bought the
PFD Chrome Pro Quality Dance Pole
:
"My whole family loves the pole.
Hello! Marion here! I am so pleased to report that thus far things have been great. My whole family loves the pole. My place is small, it's right smack dab in between the living and dining areas. Every uses it as a fitness tool. When the kids are sound asleep or at Nana's I practice the sexy.. otherwise I just exercise. the stretches you can do with a vertical pole are amazing. I bought it because I have wanted one for years and because it will help me with my grips and upper body strength. I train Bazillian Jiu jitsu. For my big girls, please know that I am 5'7″ and 222lbs (229) a few weeks ago. It is so secure. I followed Danna's video to install. I installed it with the help of my guy. We rent and no risk to the security deposit -because we followed the guidelines and it's secure on joists! I am so so pleased. I can do very basic spins… it's nothing fancy but girls… it's liberating and awesome. I never thought I'd love me so much at 32 years and a mom of 3.. I researched for a long time. Danna's service is awesome. Thank you girl! If you are on the fence… Hop off! Just do it! One life. Make the rest of your years the best of your years. Xo" View original testimonial in the product reviews section
Here >
Home Dance Pole Kit Reviews
Watching various reviews on different dance poles can also help you decide what's best for you.  You can find those on our dance pole reviews page here =>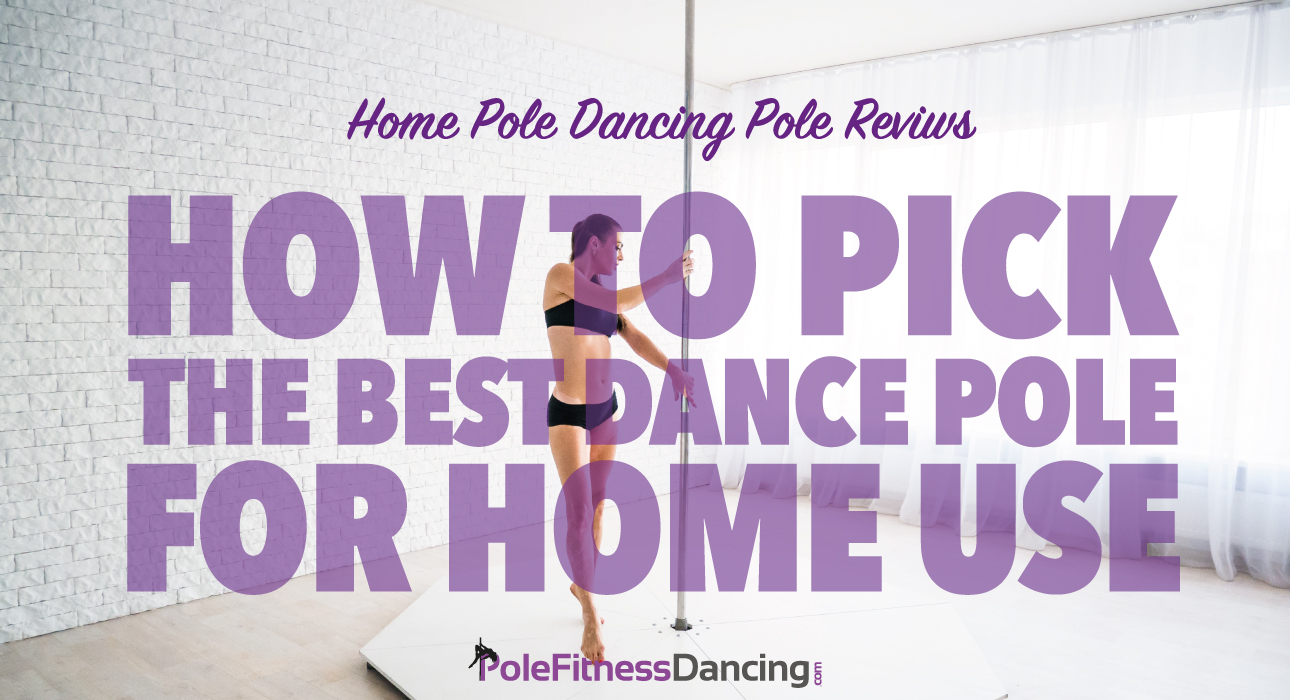 Home Dance Pole Installation Videos
Watching how to install the dance pole of your choice can also help you decide which pole to choose and whether or not paying extra for a pole that is easier to install or take down is right for you.  This is especially important to do if you plan to take your pole down every day.  Here is the list of the dance pole installation instruction videos for all the poles sold in our store => Dance Save Save Save Save Save Save Save Save Save Save